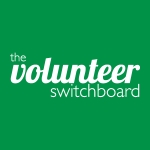 Kopi Teh or Moi (an extension of Home Sweet Home)
Sunday, March 12th 2023
9.30am - 1pm (GMT+08:00) / 3 hours 30 minutes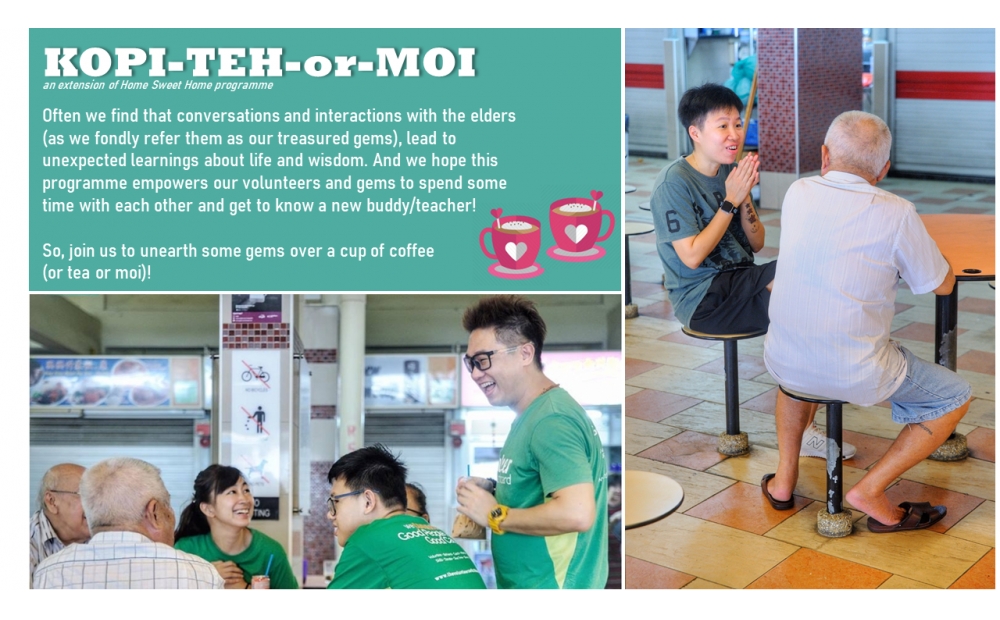 Blk 10 Jln Kukoh, #04-55, Singapore 162010
(1) ABOUT THE KOPI-TEH-or-MOI PROGRAMME (an extension of Home Sweet Home programme)
===========================================
Often we find that conversations and interactions with the elders (as we fondly refer them as our treasured gems), lead to unexpected learnings about life and wisdom. And we hope this programme provides a platform for our volunteers and gems to spend time with each other and get to know a new buddy/teacher!
So, we would like you (our dear volunteers) to empower the seniors over a cup of coffee and your conversation with them!

A preview... our friends at Singapore Kindness Movement has kindly written an article about this programme:
https://pride.kindness.sg/ground-up-movement-hopes-to-empower-seniors-through-kopi-and-conversation/

(2) PRE EVENT MATTERS
===========================================
Please check your email for before the event (including your spam folder).
A pre-event briefing/information deck will be sent to your email.


(3) YOUR ROLE AS A VOLUNTEER
========================
- Be punctual. We will be having a briefing for all volunteers at 9:45 am on what to expect.
- Engage and empower the residents. Make a new friend.
- Be patient to warm up to our seniors and listen actively when seniors shares their life experiences.
- Invite our elderly from their homes to having coffee and chit chatting with you
- Be the eyes and ears for the community.
- Assist in activities (if any) planned for the residents.
- Most importantly: Do not be shy & HAVE FUN! Chat with the seniors!

(4) EVENT FORMAT
=============
9:30 AM to 9:45 AM - Volunteer registration and take attendance
9:45 AM to 10:05 AM - Briefing for volunteers on what to expect and instructions
10:05 AM to 10:45 AM - Inviting the elderly for coffee
10:45 AM to 11:30 AM - COFFEE AND CHIT CHAT TIME, MAKE A NEW FRIEND
11:30 AM to 12:00 PM - Collect goodie bag with the elderly and send them home
12:00 PM to 12:15 PM - Volunteers to gather at meeting point
12:15 PM to 12:45 PM - Debrief and wrap up


(5) NOTES ON THAT DAY
===================
The gathering point at 930 AM would be on Level 4. Block 10 Jln Kukoh
Look out for the registration signage!


(6) Changes on COVID-19 Related Protocol (Version 1 May 2022)
==============================================================================
With the recent easing of the national guidelines for the COVID-19 situation, there are a couple of changes made for our Home Sweet Home event. These changes are according to the advisory from Ministry of Health's (MOH) and Ministry of Social and Family Development's (MSF).

See this document:
https://tinyurl.com/HSH-C19-Changes

(7) REGISTRATION POLICY
===================
Events and registration are subject to changes or cancellation at any time prior to event.
- Should there be any changes about the event, registered and waitlist volunteers will be notified via email.
- By registering for this event you agree, you are confirming that you agree to the safety measures in place and would be eligible to participate.
- Please update your registration if there are changes to your attendance. So you can help waitlisted volunteers to fill your place to reach out to the seniors that were originally assigned to yourself.
- Each volunteer registration allows a maximum of 5 people. We would highly encourage each individual to register for their account as the system would send an automated reminder to the registered email. If you are coming in a group bigger than 5, please have another friend to register. This will help to update the volunteer count and the community know which event needs more volunteers.
- Number of pax: Please indicate the number of volunteers (including yourself) that you are registering on behalf of. This includes children.
- Volunteer names: Please indicate the names of all the volunteers in the comment section
- Children (below age of 14 years old) as volunteers:
Children to be accompanied by their parents/legal guardian all times. By participating together with your child/ward, parent/legal guardians, you provide consent listed in the Parental consent form (https://tinyurl.com/HSH-Consent). This includes you agree to have understood the potential risks and exposure of your child/ward's participation in this event and will be responsible for helping your child/ward understand their roles and responsibilities during the volunteering event. Hence, no parental consent form would be required.
Children not accompanied would require to submit a parental consent form. Please download via this link (https://tinyurl.com/HSH-Consent) and submit to us BEFORE the event.